Adelante Educational
Specialists Group
Moving districts forward to improve academic achievement for Multilingual Learners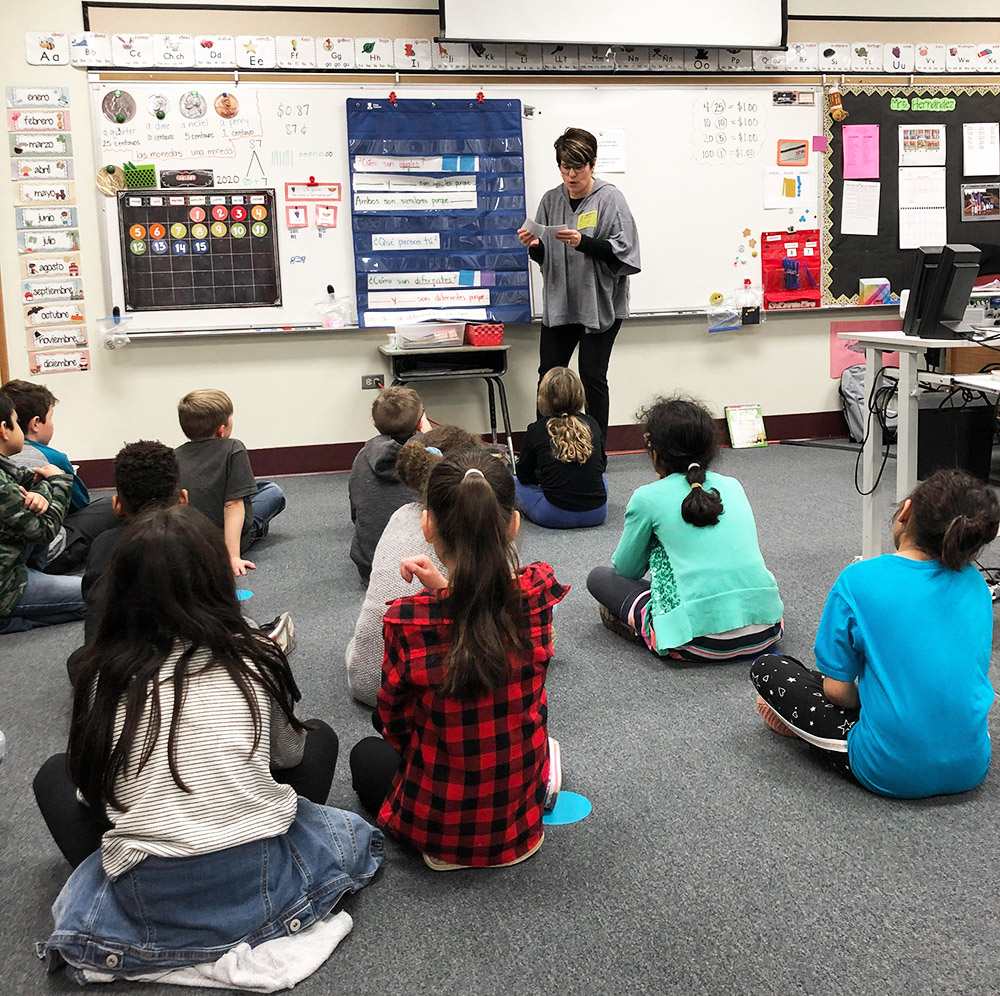 Adelante Educational Specialists Group is a diverse team of educators with a broad range of experiences as dual language and bilingual practitioners and administrators.  Our comprehensive services focus on effective programming, professional development in the areas of biliteracy instruction, second language acquisition and Multi-Tiered Systems of Support (MTSS). We also specialize in biliteracy curriculum design and instruction to create equitable access to high quality instruction  for all multilingual learners. We customize our services to meet the needs of each district that we serve. Here at Adelante Educational Specialists Group we pride ourselves in providing high quality support and professional development. 
Expertise. Engagement. Equity.
Customized Consulting Specializing in
All services are designed and developed to meet your districts needs!
Adelante Education Specialists is my 'go-to' for inquiries regarding bilingual and dual language. Amy and her team are exceptionally knowledgeable and so easy to work with. She is an outstanding thought partner and is willing to challenge my thinking and stretch my own learning. You will not find a better consulting group that is truly dedicated to helping improve your program!
I am very grateful for the partnership our district has with Adelante Educational Specialists Group. We've completed two rounds of "Summer Dual Language Institute" at the district level. Amy and her team guided us through the key components of biliteracy instruction in dual language programming as well as giving us time to apply those practices to our written content and get feedback. In addition to our summer work, we have had mini professional learning opportunities based on specific areas that we need more help with. Amy and her team have offered expert guidance throughout this process and have ensured that we have the tools necessary to provide excellent dual language instruction in our district. We would not be this far along in our process without our partnership. Our team is grateful and gives great feedback regarding their experiences with Adelante Educational Specialists Group!
Adelante provides a robust and responsive menu of professional learning opportunities that are tailored and well-received by multilingual educators. Through our multi-year partnership with Adelante, we have developed Dual Language paired, content-based biliteracy units that were developed by the teachers and engaging for the students; we have developed in professional learning on practical and engaging oracy practices to develop language and literacy standards; we purchased Middle School Spanish Language Arts units with authentic texts and social justice standards; and, we have benefited from the flexible instructional coaching to support teachers through modeling, co-planning, and reflective learning. We are grateful for our ongoing partnership and the resulting growth in our Dual Language program.
"Working alongside Adelante Educational Specialists was very beneficial to our dual staff and administration. Their superb skills, guidance and experience assisted our team in the development of the district's Interdisciplinary Biliteracy curriculum units for our dual language program. We are very thankful for the hands on approach and scaffolding during this professional development to ensure we successfully completed our unit templates."
"Our work with Amy has been fundamental in transforming our EL classrooms into learning environments where language development is integral with content instruction. Our collaborative work on literacy strategies and EL best practice has give our teachers the tools to feel equipped to manage the unique needs of our EL population in order to ensure these students thrive and achieve."